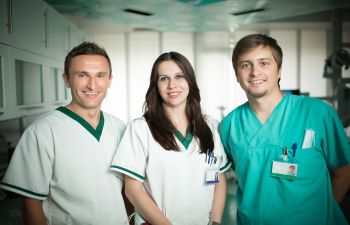 Big hospitals, multiple operating rooms, and so many employees – who don't even know each other's names – are not what describes us at Trinity Surgery Center! The staff of small surgery centers like ours can focus more on YOU – the patient. When you're with us, you're not a chart number, you're a human being.
Quick and Personalized Care
We know you're nervous. And we know you're ready to get back home. There's no need to answer the same questions over and over again to different people. Our close-knit staff communicates excellently with each other to ensure that your needs are being met and your surgery is streamlined smoothly. By doing so, we get you in and out, without a fuss. It's our goal to ensure that you get the highest quality care at all times.
We Can Provide You with All Your Orthopedic Needs
Just because we're small, doesn't mean we're not capable. When you're a patient of ours there's no need to go anywhere else. We have a state-of-the-art facility and all of the equipment you need, plus an expert staff to provide you with your surgical orthopedic support.
When you visit our orthopedic surgery center in San Jose, California, you'll get quick, personalized and top of the line care. We can provide you with anything from radiofrequency ablation to help with pain, to percutaneous kyphoplasty to restore the vertebrae that have been affected by a spinal fracture.
If you've been suffering for a while there's no need to wait any longer. We can help you get your life back. Call Trinity Surgery Center for your consultation today. We look forward to meeting you.
Posted on Behalf of Trinity Surgery Center