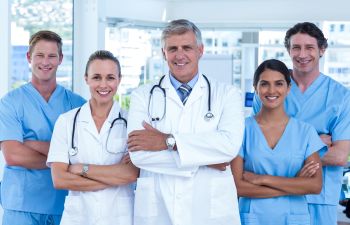 At Trinity Surgery Center, our outpatient surgery facility has an expert team of providers that run our operating room efficiently, providing you with the best care possible.
The medical professionals that are present during your surgery include:
The Surgeon: Your board certified surgeon will perform the operation using the knowledge and technique learned through education, training, and experience.
Operating Room (Scrub) Nurse: The role of the Operating Room (OR) nurse is to assist the surgeon.
Anesthesiologist: During surgery, controlling your state of consciousness is important to ensure you stay comfortable. Our anesthesiologist will administer your anesthesia and monitor your body's vital functions throughout surgery. This includes your heart rate and its rhythm, your breathing, blood pressure, body temperature, and body fluid balance.
Anesthesia Assistant: Assisting the anesthesiologist is a Certified Registered Nurse Anesthetist (CRNA) or an Anesthesia Assistant (AA).
Circulating Nurse: This provider will be with you before, during, and after your surgery. They will care for and monitor you at all times and in every aspect of your stay in our outpatient surgical facility.
Radiologist: Sometimes it's necessary for the surgeon to collaborate with a radiologist during treatment. Therefore, it's not uncommon to have an x-ray expert in the operating room as well.
Experience Expert Care
As you can see, there is no lack of experience during your operation; when you're a patient of ours, you can rest assured knowing you're in expert care. If you're interested in finding out more about Trinity Surgery Center and our outpatient surgical facility in San Jose, then give us a call. We look forward to meeting you!
Posted on Behalf of Trinity Surgery Center